Art & Craft Exhibition
Objectives of this programme
To develop creative individuals/organizations who would catalyze productive action in direct collaboration with group of craftsmen at multiple locations.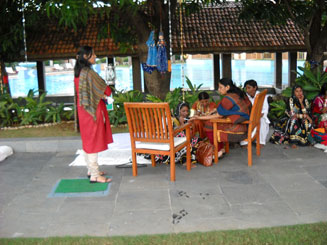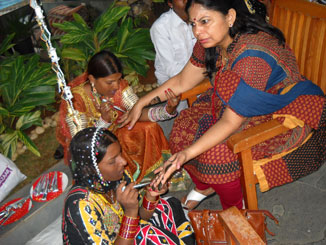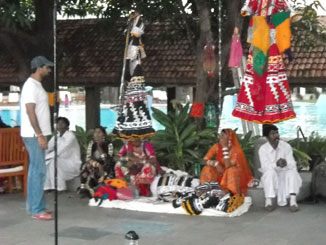 Rajasthan is among the richest states in the country as far as the field of arts and crafts is concerned. Stone, clay, leather, wood, ivory, lac, glass, brass, silver, gold and textiles are given the most brilliant forms.


Bandhani or Tie and Dye
Rajasthani textiles come in an attractive range of hand - block prints, tie and dye and embroidered fabrics with mirror work. The art of Khari or over printing in gold is also practiced here. The Bandhni or tie & dye work comes from Sikar, Jodhpur, Udaipur etc.


As the name suggests, this technique involves two stages: tying sections of a length of cloth (silk or cotton) and then dunking it into vats of colour. The main colours used in Bandhani are yellow, green, red and black. It is essentially a household craft supervised by the head of the family. The fabric is skillfully knotted by the women, while the portfolio of dyeing rests with the men. The Jaipur dyer rarely works with more than two dye baths while the additional colours are spot dyed, which makes the process much easier. Thereafter, the fabric opens out into amazing designs in kaleidoscopic colours: dots, circles, squares, waves and stripes. The laheriya or the ripple effect is achieved by a
variation of this technique. Lengths of permeable muslin are rolled diagonally from one corner to the opposite, bound tightly at intervals and then dyed. The ties are then undone and the process repeated by diagonally rolling the adjacent corner toward the opposite and repeating the process. Both Jaipur and Jodhpur are major centres of laheriya.


Pottery

Potters pottering about on their wheel and fashioning all kinds of pitchers and earthenware are a common sight in India. While pottery for daily use (like gharas and surahis) is made all over Rajasthan, certain areas specializing in a particular type. Jaipur is known for its regal blue-glazed pottery introduced in India by early Muslim rulers. The blue glaze was initially used to liven up the visual appeal of mosques, tombs and palaces - you'll spot the extensive use of these tiles in the old city of Jaipur. Another hotspot is the village of Molela, 40km north of Udaipur, which excels in terracotta pottery, sculpted plaques and icons of Rajput heroes and Hindu deities. An array of terracotta articles are produced in Rajasthan : paper-thin pottery, painted pottery, white and red clay articles and terracotta wall plaques, Jaipur, Jaisalmer, Alwar and Bikaer are the main centres. Black pottery, better sourced in South India, makes its mark up north in the district of Dausa, west of Jaipur. Nowhere as ornamental as its southern counterpart, this one is known for its minimalist and sleek forms
Some of the popular crafts are :
Embroidery, Carpets,Leatherware, Paintings, Metalware, Furniture,Lac bangles
Lakhera and Manihar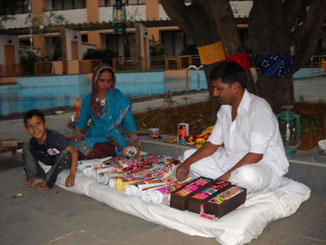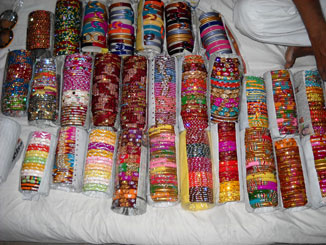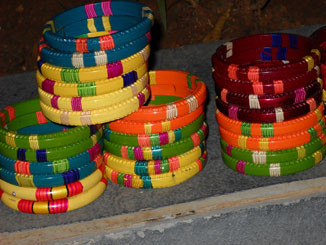 In Rajasthan lac business is controlled by Lakhera and Manihar Community. In Hindus people engaged in lac business are called Lakhera. In Mohammedans people engaged in lac business are called Manihar. Both Lakhera and Manihar do the same type of work.

Both communities are doing this business since generations. The children of these communities engage themselves in this craft from very tender age. This makes them good craftsman. They learn this skill in their own house. They have to go nowhere in any training school to learn this In every village of Rajasthan we can find some families engaged in lac business
Rajasthani Traditional Potters enjoys a grate reputation in India for its Terracotta Icons and Murals.It is gradually emerging on the global art scene.